Stone County Awarded Two Permanent Drug Drop Boxes
07/17/2012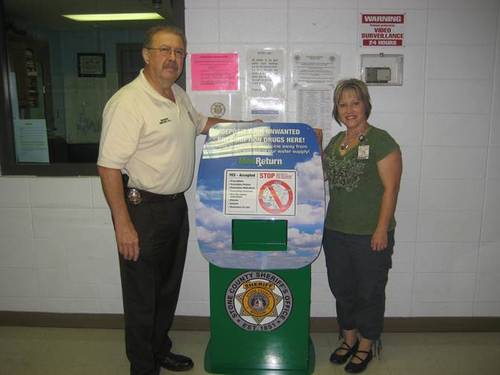 Sheriff Richard Hill and Kim King, MS, Health Educator at Stone County Health Department displaying one of the permanent drug drop boxes.
(awarded to SCHD by MYAA).
Name: Kim King, PIO kingk2@lpha.mopublic.org
Office phone: (41) 357-6134
Name: Chief Deputy Richard Anderson, randerson@stonecountymo.org
Office phone: (417) 357-6116
FOR IMMEDIATE RELEASE: Tuesday, July 17, 2012
Stone County Awarded Two Permanent Drug Drop Boxes
Stone County Sheriff's Office (SCSO) and the Stone County Health Department (SCHD) have received two (2) grant awards for two (2) permanent drug drop boxes. Recently, Chief Deputy Richard Anderson applied for a grant through the National Association of Drug Diversion Investigators Inc. for a permanent drug drop box and Kim King, MS, Health Educator, applied for a grant through Missouri's Youth/Adult Alliance (MYAA) program of ACT Missouri. Stone County was selected as one (1) of ten (10) to receive a permanent drug drop box in the state as a part of MYAA's program to reduce prescription drug abuse.
On July 1, 2012 the SCSO was notified of the grant awards. On July 13th, one of the drug drop boxes was delivered to the SCSO, with the second box to be delivered to the Kimberling City Police Department (KCPD) by the end of July. The drop boxes must be placed where they are under supervision of law enforcement. Each month the SCSO will publish the amount collected from these two locations.
"It is so exciting to be able to offer county citizens with two permanent locations to properly dispose of unused, unwanted, or expired medications. It has been a collaborative effort among Sheriff Hill, Chief Anderson, County Commissioner Jim Huy, members of the Stone County Community Coalition, and the SCHD for the past 2 years. Our goal to create a sustainable network of safe drug disposal sites in the northern and southern part of county has been accomplished! With access to these permanent drug drop boxes, citizens will not have to wait for a certain day (Drug Take Back events), they will be able to dispose of unwanted drugs at any time", said Kim King.
Stone County citizens looking to get rid of their unused, unwanted, or expired medications can now visit the permanent drop box location in the lobby of the SCSO any time of the day, any day of the week. As of August 1st, residents can dispose of medications in the permanent drug drop box that will be located inside the KCPD during office hours only (Mon.-Fri. 8 a.m. - 4 p.m.). Depositing medications into the drop boxes is simple, it is anonymous (no questions asked) and no paperwork required.
Items not accepted at the drug drop locations include needles (Sharps), illicit drugs, thermometers, bloody or infectious waste, hydrogen peroxide, aerosol cans, and inhalers.
Accepted items: Prescriptions, over-the-counter medications, vitamins, samples, herbs, medications for pets, ointments, lotions, liquid medications in leak proof containers.
SCSO and SCHD would like to encourage you to take advantage of the opportunity to keep your medicine cabinet's clean and excess prescription and over-the-counter medication out of the hands of adolescents as well as out of our water supply, through safe and secure disposal. You, personally, can help with efforts by visiting the Sheriff's Office or Kimberling City Police Department collection units during given hours to drop off your unused and unwanted medications.
###